---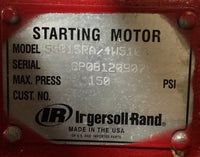 Used Caterpillar air starting motor 4W5108
Equivalent to Ingersoll-Rand part nrs. SS815RA, SS800RA
Alternative Caterpillar part nrs.: 5N8773, 4W5107, 7C3372, 0R9851, 5N7898, 5N8773, 5N8775, 5N8788, 5N8789, 6N2427, 8N8418, 8N8473, 2W5511, 4W5101, 4W5103, 4W5105, 4W5106, 4W5108, 4W5732, 4W6633, 1378397, 1435168.
Caterpillar Reman part nrs.: 0R9851, 10R1833
Maximum 150 psi air pressure
Made in the U.S.A.
Removed from fire pump engine with very low running hours. In excellent working condition.